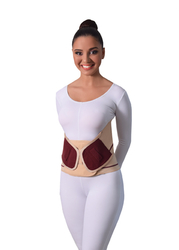 VERTAMAX LSO & TLSO
PDAC Approved LSO L0627 • L0631 • L0637 • L0642
OPTEC USA's VertaMax is designed and manufactured utilizing dense elastic material which provides significantly more compression than those conventionally used for lumbar supports.Vertamax provides unparralleled anterior-posterior support, abdominal support, perfect anatomic fit, ease of donning and doffing, and soft comfort. Abdominal compression can be increased or decreased with the fastening tabs.The adjustable anterior and posterior plastic panels contour and conform to patients of all shapes, sizes and lordotic curves with no heat molding necessary. Your patients will appreciate the streamline design that is undectable under clothing.
VERTAMAX is available as either an LSO or a TLSO (with DLK) in Gray, Black or beige colors.
FEATURES:
Unparalleled anterior-posterior and abdominal support,
Perfect anatomic fit
Easy of donning and doffing
Abdominal compression with the fastening tabs.
Adjustable anterior and posterior plastic panels
No heat molding necessary
Streamline design that is virtually undetectable under clothing.
TYPICAL INDICATIONS
Burst Fx
Post-Op Spinal Stabilization
Post-Op Disc Surgery
Degenerative, Herniated or Bulging Disc
Spondylolysis
Spondylolisthesis
Facet Syndrome
Spinal Stenosis
Tumors or Inflammation
Chronic Back Pain
Spinal Instability
Post-Op Laminectomy
Lumbago